Mettle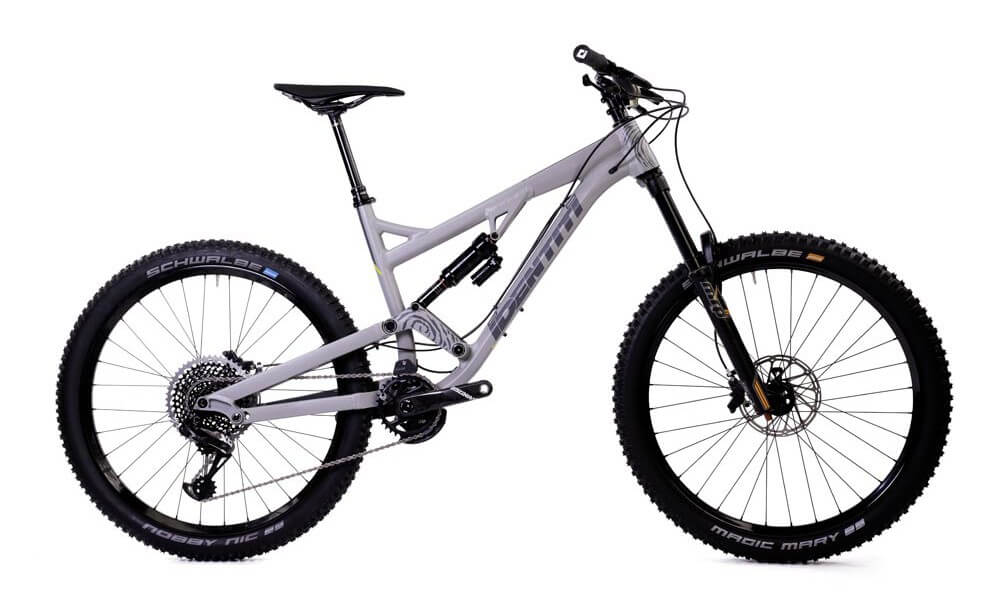 The Mettle has launched to wide success and we're proud to bring it to you in an even more attractive package for 2019. We listen to our customers and reviews, and have adapted the component choices we made to bring even better bikes at lower prices.

With almost 20 years of experience, multiple national 4x championship wins, and one BMX race world champion, we started a fresh project – code named the R01. We spent a long time studying a lot of graphs, but more time riding, racing and analysing our prototypes. 3 years of testing, refining and repeating all boils down to what we show you today. A product well worthy of carrying the Identiti name forward into the rowdiest trails you can find.

At Identiti, we all ride trail bikes whenever we can, shredding loamy turns, because that's what puts smiles on our faces, so the development process was focused around what we want. A fast, capable and fun bike that's rewarding to ride hard.

Why Metric Suspension? Another standard, yeah, we know. But seriously, we chose Metric because it adds characteristics to the bike that we just couldn't achieve with historical shock sizing. With the new Metric shock sizing the Mettle is optimised around tomorrow's standards, making it future-proof. Metric offers the smoothest and most supportive performing suspension we have ever felt, but also the most reliable. By using a 230 x 60mm shock platform, we can take advantage of more bushing overlap inside the shock, which really improves performance when pushing the bike hard. We're so confident with how well the bike pedals that we haven't ever felt the need to reach for that little blue compression adjuster to firm it up for climbs, and we think you'll agree.

There's 15% progression to the leverage curve, with the ability to add more volume spacers, so you get full support when diving deep into rock gardens. We also made sure that the frames Boost rear wheel spacing allowed us to increase bearing distances at the main pivot for increased stiffness when railing turns. A proven Horst link design allowed us to fine tune to the characteristics that we wanted providing plenty of support and anti-squat figures suited for optimal pedalling performance.

Simply put, we've taken advantage of new technologies to offer what is the best bike we have ever made. Built to take a hammering. Day in. Day out.
News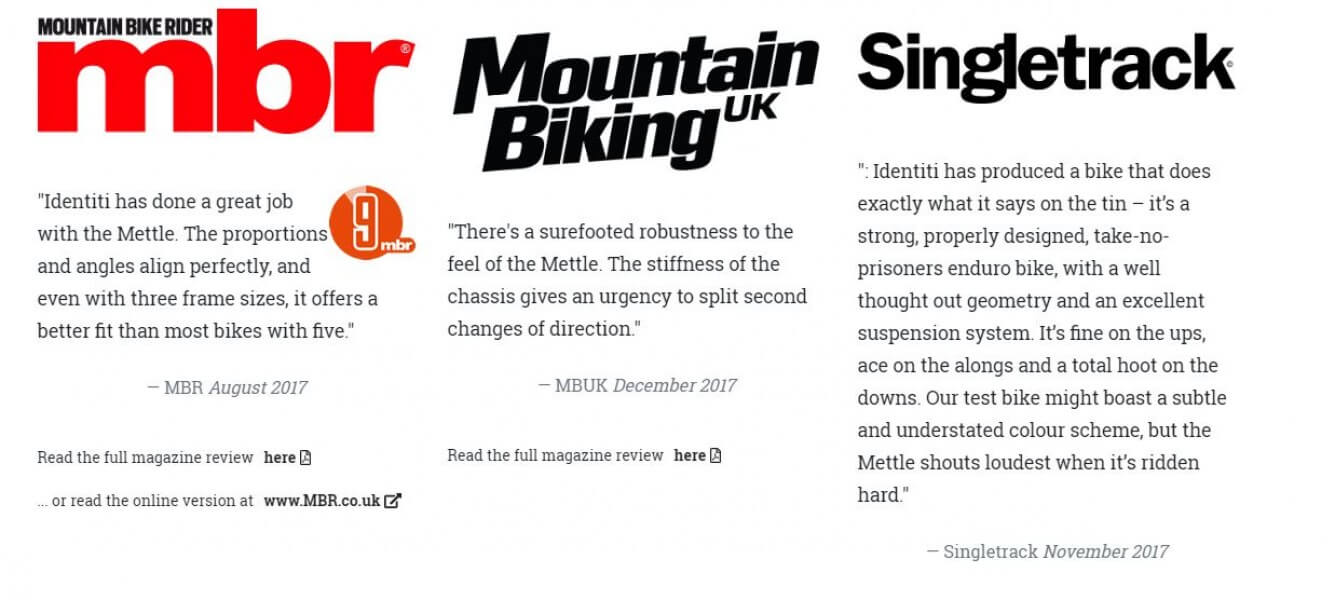 Geometry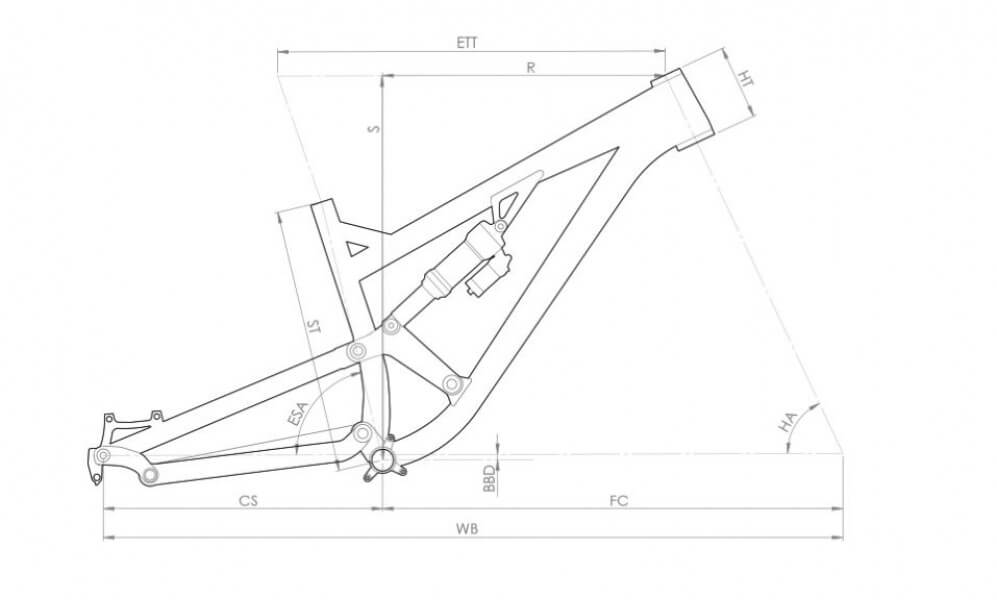 Dr Jekyll Green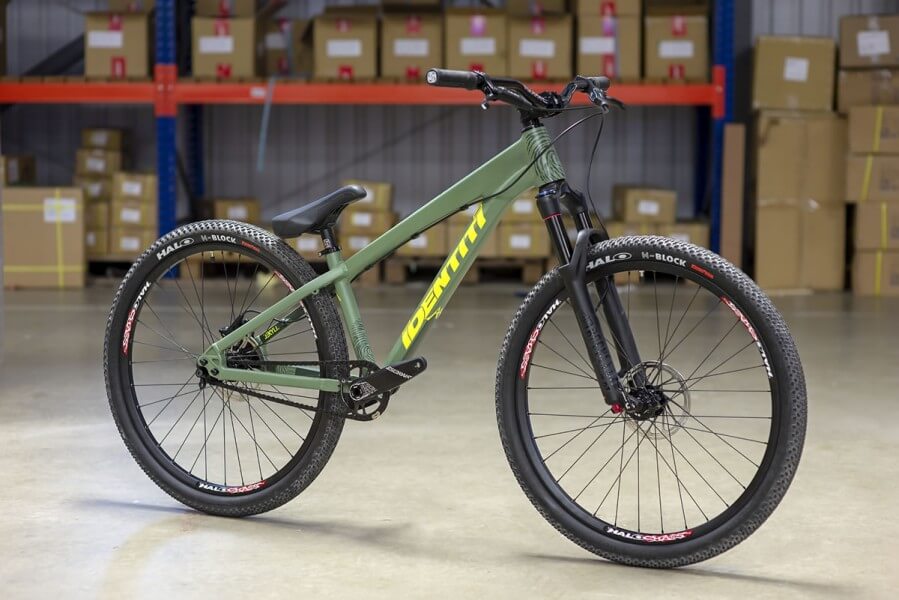 With a history deeply embedded in the UK dirt jump scene, the Dr Jekyll is our most established model name, the original bike that was conceived in 1998 and it only seemed fitting that it returned to celebrate our 20th birthday in 2018. Still rocking 26" wheels and firmly drawing a line in the sand that #26aintdead, the Dr Jekyll is built solely for the dirt jumps or 4x track. It's a bike designed to have fun on, hit the trails, and look good doing it.
Dr Jekyll Orange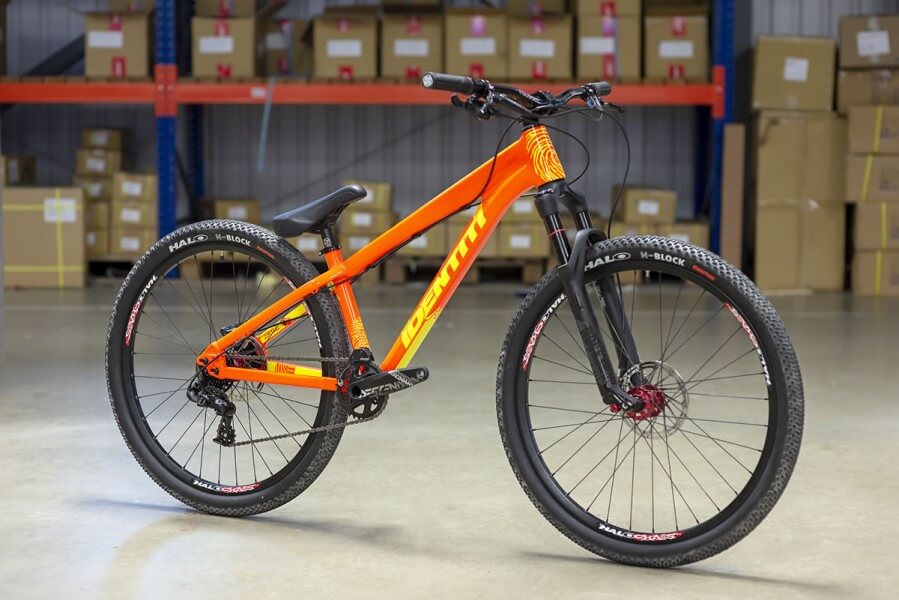 Deep inside we all ride bikes to have fun and the Dr Jekyll is going to put a lot of smiles on people's faces when it arrives.
I started riding my bike on jumps and looked at Identiti as the top dogs. I couldn't let that dry up in the brand when I came to the helm of Identiti, the brand deserves this bike, a bike unashamedly awesome. It doesn't beat around the bush and won't disappoint.
Aka
Not content with just recreating a legend, we have also set about complete redevelopment of the AKA trail hardtail. The first generation AKA arrived in 2011, developed from the original Mr Hyde platform and it spearheaded a market looking for hardtails without cross country geometry or long stems and since then things have really changed. As you can see in the pictures here, it's borrowed some features from today's enduro bikes like long reach and a slack 64.5° static head angle to give confident 66° angle at sag. Based around a 140mm fork, a conscious decision to make the balance the bike and keep the rider in control.
Aka Red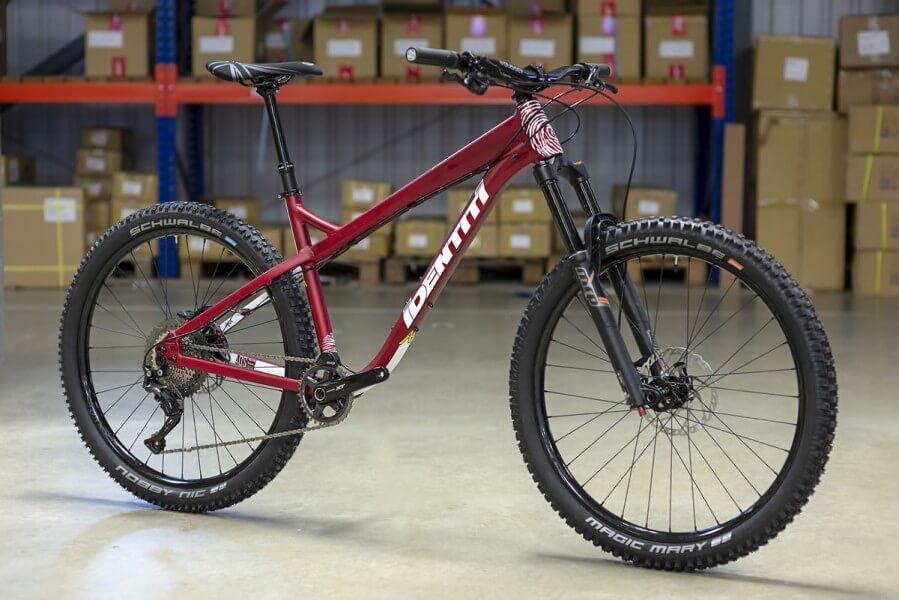 With boost rear axle spacing and ample tyre clearance up to 2.6" as well as a party trick to be announced later, the AKA is as modern as they come for fitment standards.
2 Frames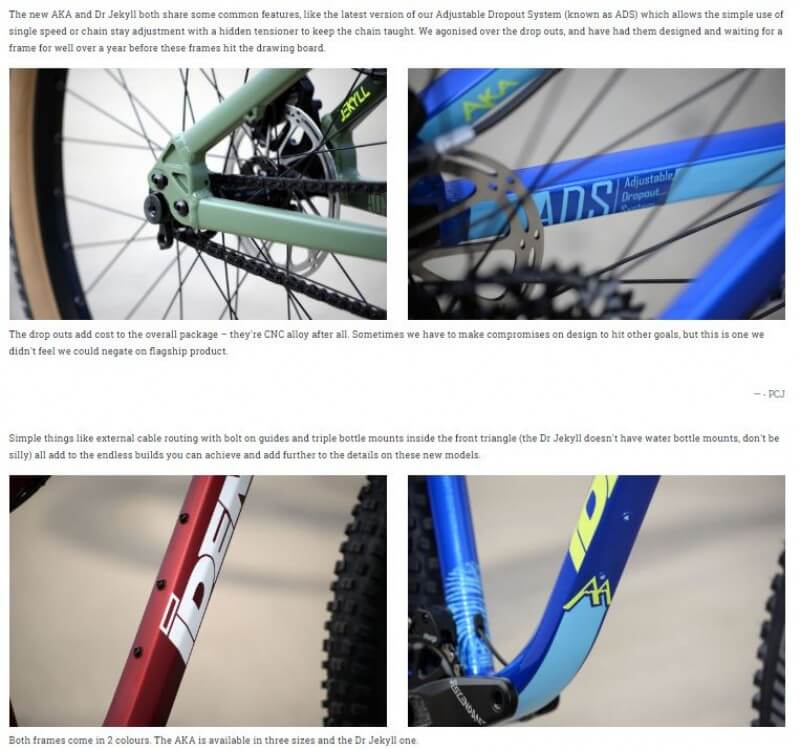 Riders